Who is this course for?
Anyone who is aged

19 or above.
Individuals who are unemployed, self-employed, or working part-time and are looking to upskill.
Has a passion for tech and all things data.
Those who have the right to work in the UK.
Upcoming course start date: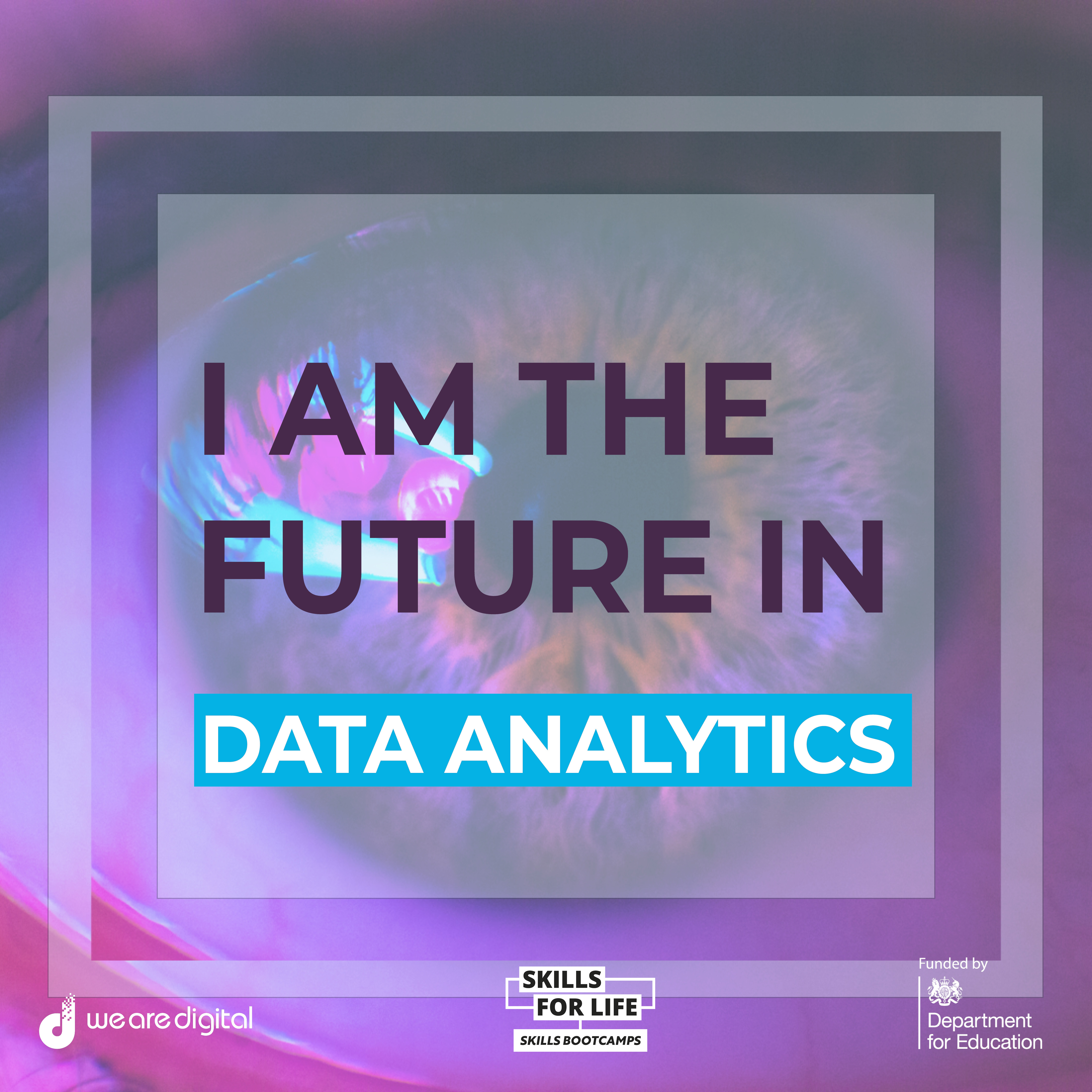 Our Department for Education offer:
---
Delivering to those in London, North East, North West and the West Midlands, we have the perfect course for you!
1. A 10-week remote course consisting of 3-hour live and online sessions; taking place Monday to Thursday.
2. The choice to attend morning, afternoon or evening classes, with our industry expert trainers delivering each session.
3. Certificate awarded on course completion with the opportunity to complete additional training, including Amazon, Google, Microsoft and Salesforce (subject to successful course completion).
4. Access to a pool of current job vacancies and apprenticeships from recognised employers in the Marketing sector.
5. A promise to support you for an additional six months with your employability journey (looking for employment or self-employed) once the 10 weeks are complete.

Course Modules
01 Introduction to Data Analysis, Database Design and Administration
This module will explore the fundamentals of handling data in the modern world.
From data collection and storage to analysis and presentation, you will learn how to construct databases and use them to store, query, and manipulate data. This module will teach you how to apply the principles of data analysis, including descriptive statistics, predictive analytics, and machine learning algorithms. You will also cover topics such as database administration and security, where you will develop the skills needed to effectively manage your own databases.
02 Data Collation, Formatting and Processing
From Data Mining to Machine Learning, this module will act as a comprehensive guide to obtaining, formatting and extracting meaningful insights from data. It will cover the techniques used to collect relevant data from various sources, such as databases, websites, and social media whilst introducing you to overviews of methods used to format the data into a usable form, such as sorting and grouping. You will also learn the methods used to extract meaningful insights from the data including extraction techniques such as statistical analysis, machine learning algorithms, and data visualisation.
By mastering these techniques, you will be able to utilise data for informed decision making.
03 Data Visualisation and Storytelling
Focusing on the effective communication of data, this module will teach you how to effectively present data in a visually appealing way to communicate a message or story. You will cover topics such as the basics of data visualisation, including the use of graphs, charts, and diagrams, how to choose the most effective visual representation for the data, and how to tell stories using data. You will also learn about the importance of selecting the right visuals for your audience and the different techniques used to create engaging presentations.
This module will also explore how to effectively deliver data-driven stories, including tips on presenting complex data in an easy-to-understand manner. By the end of this module, you will have gained the necessary skills to effectively communicate your message through data visualisation; adding another learnt skill to your CV.
04 Data Sources, Trust and the Process of Combining Data
This module will expand your understanding of different sources of data, data trust, and how combining different data sets allows for more meaningful insights. By understanding the various sources of data, you will be able to ensure that the data is reliable and accurate whilst also learning how to build trustworthy data.
You will also develop an understanding of how to combine multiple data sets to provide insight into trends, correlations, and patterns that may not be visible when looking at single data sets. You will also learn how to interpret data and therefore make informed decisions: including combining energy usage and weather data.
05 Structured and Unstructured Data Analysis
Discussing Statistical Modelling and General Analysis, this module will explore different methods of analysing structured and unstructured data, including statistical modelling and general analysis techniques.
The module will show you software that can apply these techniques to data sets, such as those found in the fields of marketing, finance, healthcare, and social media. This will lead nicely into understanding how to interpret the results of these analyses in order to draw meaningful conclusions or decisions.
Finally, you will gain an understanding of the ethical considerations that must be taken into account when working with data. This is very important!
06 Data Validation: Cross Checking, Fault Identification and Quality
This module will teach you how to check for accuracy, reliability, and quality when reviewing data, using the following processes:
Cross-checking involves comparing data from different sources to ensure that it is consistent and accurate.
Fault identification looks for errors or inconsistencies in the data, while Quality looks are used to make sure the data meets certain standards.
Data validation can help ensure that data is up-to-date, accurate and complete, thereby reducing the risk of costly mistakes or incorrect decisions being made.
07 Data Reporting: Reports, Documentation and Messaging
This module will enable you to effectively communicate the insights extracted from the data. This includes developing your skills in creating reports, documents and messages that are accurate, clear and concise whilst also telling a story. You will learn that reports should be tailored to the audience being analysed, providing information that is relevant and easy to understand, whilst documentation should be comprehensive and up-to-date, and messaging should be targeted and appropriate.
By using these techniques, you will be able to ensure that the extracted data is communicated to the right people, in the right way, at the right time.
08 Data Security and Privacy and Compliance
As an essential when protecting sensitive data, this module will ensure compliance with relevant laws and regulations. You will be introduced to the best practices for data protection, such as encryption, data masking, access control, and data retention policies. This module will also cover compliance with laws such as General Data Protection Regulation (GDPR) and other international standards.
By following these best practices, you will help businesses to ensure that their data is secure and that they remain compliant with applicable laws. This module will also help develop your skills so you can be an asset to organisations, helping them to protect consumer data from cyber-attacks and unauthorised access.
09 Creating Value from Data - Collaboration through Business Intelligence
In this module, you will explore how to use business intelligence tools to collaborate with stakeholders in order to generate value from data. This will include identifying the right data sources, understanding the needs of stakeholders, and developing processes to effectively analyse and interpret data.
The module will also cover how to use data-driven insights to inform decisions, as well as techniques for effectively communicating insights to your stakeholders. Through this process, you will be able to develop your knowledge to help organisations gain a competitive edge by unlocking the potential of their data.
10 Big Data, Data Science and Data Warehouses
You will be introduced to the fundamentals of big data, data science and data warehouses where you will explore how these technologies can be used to process large amounts of data quickly and effectively.
The module will cover topics such as data mining, machine learning, artificial intelligence and cloud computing where you will learn how to use advanced analytical techniques to obtain insights from data sets. You will also gain an understanding of how data warehouses can be used to store large amounts of data and how they can be queried in order to produce meaningful results.

Eligible Regions
---
1. London
Barking and Dagenham

Barnet

Bexley

Brent

Bromley

Camden

City of London

City of Westminster

Croydon

Ealing

Enfield

Greenwich

Hackney

Hammersmith and Fulham

Haringey

Harrow

Havering

Hillingdon

Hounslow

Islington

Kensington and Chelsea

Kingston

Lambeth

Lewisham

Merton

Newham

Redbridge

Richmond

Southwark

Sutton

Tower Hamlets

Waltham Forest

Wandsworth
2. North East
Barlow
Barmoor
Bensham
Bill Quay
Birtley
Blackhall Mill
Blaydon Burn
Blaydon-on-Tyne
Carr Hill
Chopwell
Clara Vale
Coalburns
Crawcrook
Deckham
Dunston
Durham
Eighton Banks
Felling
Gateshead
Greenside
Harlow Green
High Felling
High Spen
Highfield
Kibblesworth
Lamesley
Lintzford
Lobley Hill
Low Eighton
Low Fell
Marley Hill
Metro Riverside Park
Newcastle Upon Tyne
Old Ravensworth
Pelaw
Portobello Trading Estate
Rowlands Gill
Ryton
Saltwell
Sheriff Hill
Sunniside
Swalwell
Team Valley Trading Estate
Victoria Garesfield
Wardley
Whickham
Windy Nook
Winlaton
Winlaton Mill
Woodside
Wrekenton
3. North West
Barrow in Furness

Blackburn with Darwen

Blackpool

Bolton

Burnley

Carlisle

Cheshire

Chester

Cumbria

Greater Manchester

Halton

Lancashire

Lancaster

Liverpool

Manchester

Merseyside

Preston

Runcorn

Warrington
4. West Midlands
Birmingham
Coventry
Dudley
Hereford
Rugby

Sandwell

Shrewsbury

Solihull

Stafford

Stoke

Telford

Warwickshire

Walsall
Wolverhampton
Worcester
Upcoming course dates
---
1. London
London - Skills Bootcamps in Data Analytics course dates:
08 January 2024

15 January 2024

22 January 2024
2. North East
North East - Skills Bootcamps in Data Analytics course dates:
08 January 2024

15 January 2024

22 January 2024
3. North West
North West - Skills Bootcamps in Data Analytics course dates:
08 January 2024

15 January 2024

22 January 2024
4. West Midlands
West Midlands - Skills Bootcamps in Data Analytics course dates:
08 January 2024

15 January 2024

22 January 2024

FAQs
---
1. Is the course manageable if I have a learning difficulty or disability?
We are committed to providing inclusive education for all our learners, including those with learning difficulties or disabilities.
We encourage learners to let us know about any learning difficulties or disabilities so that we can provide the appropriate support and guidance to help them succeed once they have completed the course.
Our facilities and support services are designed to ensure that every learner has the opportunity to achieve their full potential.
2. Do I have to pay for the course, and if so, how much?
Our Skills Bootcamps in Data Analytics are fully funded by Greater Manchester Combined Authority (GMCA) or the Department for Education (DfE); so presuming you are eligible you do not have to pay a penny.
Courses are a part of the larger Government 'Skills for Life' initiative, so the intention is to help and support you get back into or begin work without any costs attached.
3. I am already employed; can I still apply?
If you are already in employment and looking to enhance your prospects, we would still welcome your application with the backing of your current employer.
Businesses looking to upskill their workforce (defined as someone directly employed by the employer, not a sub-contractor, or freelance) onto a bootcamp, will be expected to pay 30% of training costs.
This reduces to 10% if the employer is a small or medium enterprise (SME) with 250 or less employees. There is no cost to individuals who are not accessing the training through their employer.
4. What will I learn?
All things data!
From an introduction to data analysis to developing your skills in data validation and reporting, you will be taught by our industry expert trainers, developing your knowledge in different areas of Data Analytics.
Our course will equip you with the most up-to-date expert Tech knowledge to boost your CV and become a confident Data Analyst. We regularly review and update our content too, so the skills provided match the requirements employers are looking for in the world of Tech.
So, how will I be taught?
Our Data Analytics course will be delivered in a hybrid fashion so most of our live sessions will be attended online. We will also hold three interactive in-person sessions where you will get to meet members of our team and other candidates who are looking to upskill just like you!
You will be expected to engage with the materials and assignments provided during the course, so we ask that you have your camera on for each and every session.
Course benefit:
By enrolling onto our Skills Bootcamps in Data Analytics, you are provided with the opportunity to complete additional accredited training from the likes of Amazon, Google, Microsoft and Salesforce.
These will serve to further differentiate you from others seeking employment and will strengthen your Tech knowledge, enhancing the prospect of securing interviews and helping you progress to the next stage of your Data Analyst career.
You will also be awarded a certificate as proof of your hard work and dedication, enabling you to boost your CV and show your achievements to potential employers.
5. Will I get a job once I have completed the course?
After successfully completing the course, you will be approached by our progression team, who will support you in securing interviews and a potential Data related job role. You may find you do not secure a job straight after the course but with our expert team, we will make sure to work with you to help you land those interviews and support you with updating your CV to showcase the new and upskilled you!
Self-employed graduates:
If you are self-employed, we will work with you to ensure you can sufficiently evidence the benefit our course has had on your career prospects.
Once you have successfully completed the course...
...You will be awarded a certificate as proof of your hard work and dedication to develop and enhance your skills – boosting your CV and LinkedIn profiles to potential employers.
We will also reach out to you at times to check in on your progression to make sure you are getting the best out of our Skills Bootcamps in Data Analytics.
6. Do I need to provide Identification Documentation to enroll on the course?
Yes. To meet the Skills Bootcamps eligibility requirements, we need to ensure our onboarded learners have the right to work.
We ask applicants to provide their residency status and upload a form(s) of documentation for the purpose of ensuring that candidates are eligible and do not have to spend a penny to attend the course.
For Identification Documentation help, please view our Identification Documentation Guidance page.